Last month I took a 4 day trip to Westport, Washington. At the time of planning my trip the area seemed to be awash in rarities. Northern Wheatear, Wilson's Plover, Bar-tailed Godwit, Common Eider, just to name a few were all being seen within a small radius, and they seemed to be long staying. But while I waited for my weekend to come, anxiously watching the news on ebird and the tweeters list, I began to see the reports of these species to be dropping off, and by the time it was time for my trip, it looked as though nothing was going to be waiting for me.
While I might not have got there in time for the rarity fest, Westport was still an amazing place to go birding. Staying right along the beach it was nice to be able to wake up and just walk outside my hotel door into a birding hot spot. Another fun thing about Westport is unlike the Lower mainland, where every birding location is plagued with dog walkers, bikers, hunters, joggers, and their ilk, its relatively quiet there, especially around this time of year. Really just birders and surfers, not a bad mix.
I started the trip birding bottle beach. In between Aberdeen and Westport, its a small pull off park where a trail leads through marshy boardwalk onto a tree lined beach, it seemed ripe for migrants. I found a flock of Dunlin that had a few western sandpipers mixed in as well. A large flock of 50 Marbled Godwits showed up, the largest flock I had ever seen, as in Vancouver we really only get a few with maybe 6 at the most. I spent time following the flock searching for a Bar-tailed or Hudsonian. Neither were detected, The Dunlin came in close and I spent time photographing them.
Day 2 was spent walking the Westport Jetty where the Wheatear had been seen. A group of birders had already staked out its location but nobody had seen anything. The Jetty is a huge expanse of rock that goes way out into the ocean. Its not like the Iona jetty where you have a nice gravel path, its quite the difficult time hopping from rock to rock, especially with a tripod, scope, and camera.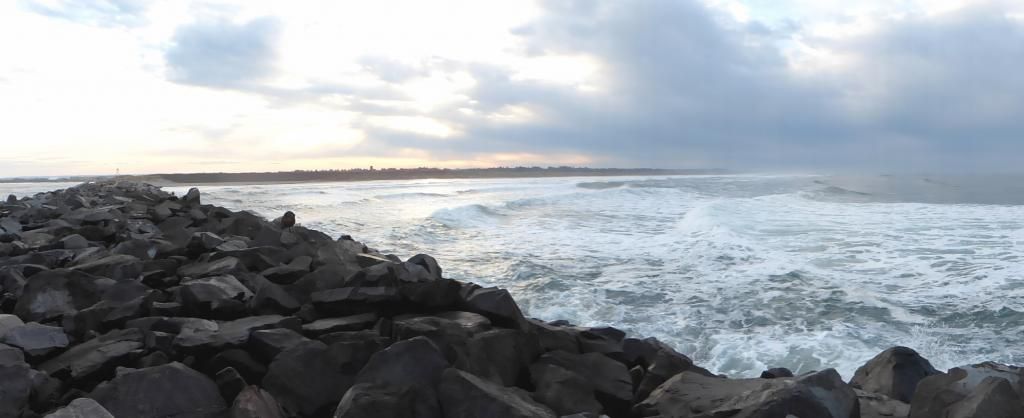 I had an American Kestrel do a fly by and also a Hermit Thrush poking around in the rocks. The highlight was coming really close to Surfbirds, Rock Sandpipers, and Black Turnstones, all huddled together. It was the first time I've ever seen all 3 species. Usually I've seen either Surfbirds with Turnstones, or a Rock Sandpiper with Turnstones.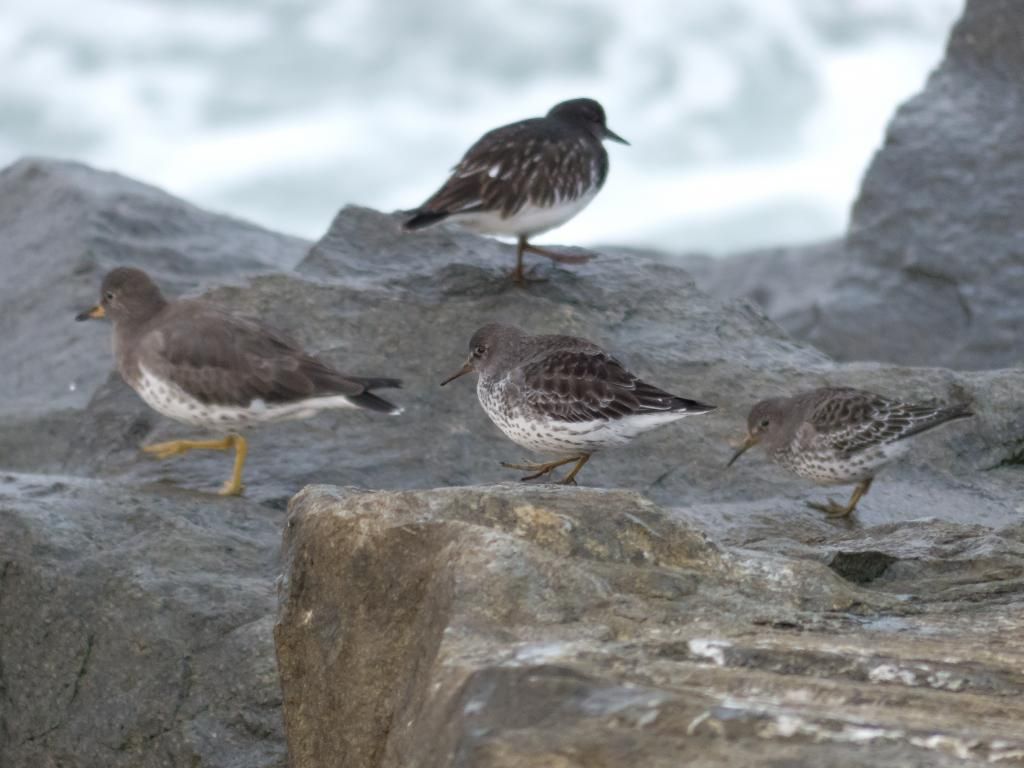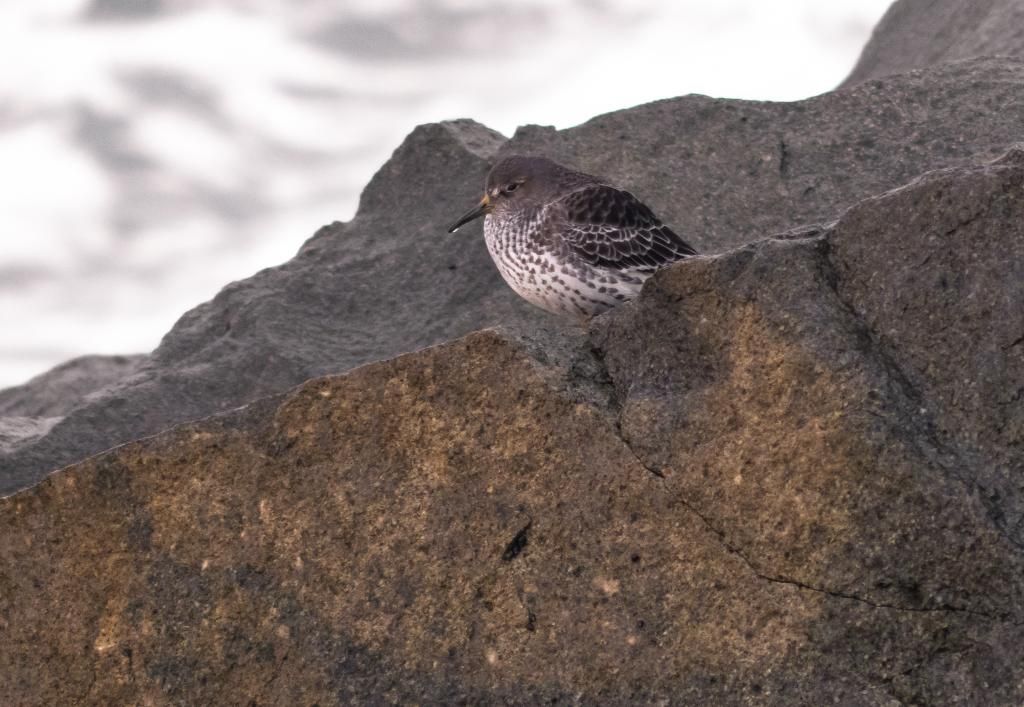 After the Jetty I thought I would go down to go after the Wilsons Plover, as well as Snowy Plover which I haven't seen yet. I went to Grayland beach and set out walking the seemingly endless sands, while walking I noticed some small plovers, holding my breath while I jumbled with my binoculars I found they were only Semipalmated. They were almost comical in their cuteness.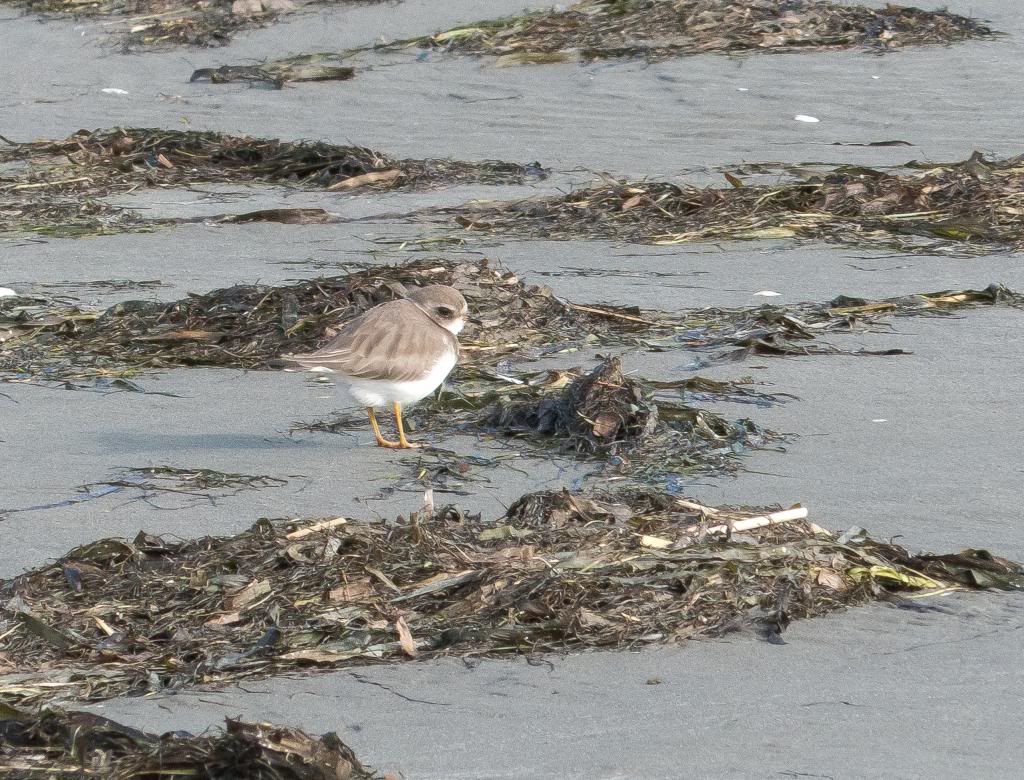 Another skunking but oh well. being able to walk a lone beach is a reward in itself.
So that night i found out there was a cave swallow being seen at Iona. Talk about disheartening, I come all this way miss out on rarities, and then a mega rarity shows up 20 minutes from my house. I was beginning to feel like the unluckiest birder in the world.
The next day was another search for atleast a snowy plover, which i missed again. And then a drive down to Tokeland, to see if the Bar-tailed Godwit was at the marina, when I was there it was pouring rain and there were no godwits anywhere. Another bust.
We stopped at the tiniest casino I have ever been in, and won 50 bucks on a slot machine. So yeah...at least I had some luck.
The morning i had to go back to Vancouver, I figured I would bird the jetty again before Leaving. There had been a huge storm the night before so I figured there had to be something interesting. As I made it to the beach, I saw a Whimbrel do a fly by, not bad. I then began to scan the waters, and noticed something floating close to shore. At first I thought it was a duck, it seemed to be struggling to stay above water. The waves would push it onto the sand and then take it back out again. I started walking out to it, figuring it was an injured female Goldeneye, until i was close enough to see that no...it wasn't a duck at all.
It was a Northern Fulmar!
I had never seen one before, but this wasn't exactly how I wanted to see my first one.
I waded out to it, he seemed barely alive, but he still feebly tried to bite my hand as I scooped him up.
He was sopping wet, and shivering. I couldn't tell if he was injured or just so drenched he couldn't fly.
I walked up to some people who looked at me like I was holding some monster, I asked where a wildlife rescue was, but they didn't seem to know, I took him to my car, and we drove to a few gas stations, but nobody seemed to know. It was nearing check out time so I had to go back to the hotel.
I googled some wildlife places, the closest one being in near Aberdeen, and one in Ocean Shores. So I "borrowed" a hotel towel, wrapped him up, checked out, and drove to find the rescue.
3 hours later and I hadn't found one, i asked for directions to an address and they weren't very good as I couldn't seem to find the place. about this time the Fulmar who I named "salty pete" had basically dried himself out, and become unwrapped from the towel. It became a scene out of Tommy Boy with the deer as he stretched his wings and made a raptor like growl, and started flapping about in the back seat.
"this is too much"! i yelled, and decided he seemed ok enough to go back to the ocean. It was a sad parting, as I waved goodbye to salty pete, he made a run for the waves and was soon far out to sea. Now I don't really know the rules of counting, but guessing that because I saw him alive, caught him and let him go, it counts as a new bird right? Bah, like I follow the ABA anyways.
So even though I didn't see any of the birds I wanted, I had a much better experience with the Fulmar, that will last my lifetime, which goes to show why I go birding, and what really are the most enjoyable aspects of it.
-Ryan